Does your expertise cover a wide area? Do you have multiple skills and are qualified to do different jobs?
It's normal to have multiple skills. You may be an excellent remote team leader while also having consulting skills, employee training and supervision skills, and be a field engineer all at the same time. Possibly you work as a lecturer at a university on the side or provide post-sales support on equipment your company makes. If you are open to any of these jobs, you may have put all your skills and previous experiences in one resume, especially if you've done multiple types of work on the same job.
If you are using the same resume to apply to different jobs, this could hinder your progress.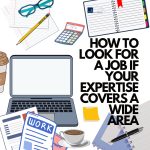 Employers and recruiting managers need to see at a glance a job seeker's qualifications so they can match them easily with jobs. The job you are applying to will have certain skill and experience requirements. When these skills are clouded with non-related information, it is difficult for hiring managers to know what the job seeker's abilities are. Hence, resumes / CVs cluttering multiple job information will likely be overlooked.
On the other hand, on point resumes draw the attention of the hiring manager. With an optimized resume, hiring managers can quickly match job requirements with the job applicant's skills, experiences and qualifications and determine whether they are the right candidate for the job.
So what should you do if you have done multiple types of jobs and have a number of skills under your belt?
The first thing is to know the requirements of each job you are applying to. Does it entail practical work only? Does it require employee supervision and training in addition to your main area of work? Does it require buying and selling and sales presentations? Whatever duties the job requires, you will need to include them in your CV / resume.
Note down all the skills required for the job and your relevant qualifications and combine them into your new optimized resume.
Have a separate resume for each job positions you want to apply to, including only relevant details.
Using a job specific resume, combined with a professional cover letter and an achievements portfolio, you will increase your chances of getting a positive response to your job application.
Need help with career planning and resume optimization so you can be eligible for the job of your dreams? Using our services, clients have succeeded in getting hired at top local and multinational companies. With a 100% customer satisfaction guarantee and high client success rate, you have 100% to gain and nothing to lose. Email info@radeya.biz to learn more how we can help you reach your career dreams.