100% Customer Satisfaction and high client success rate, see what our clients have to say about the results they are getting after using our services: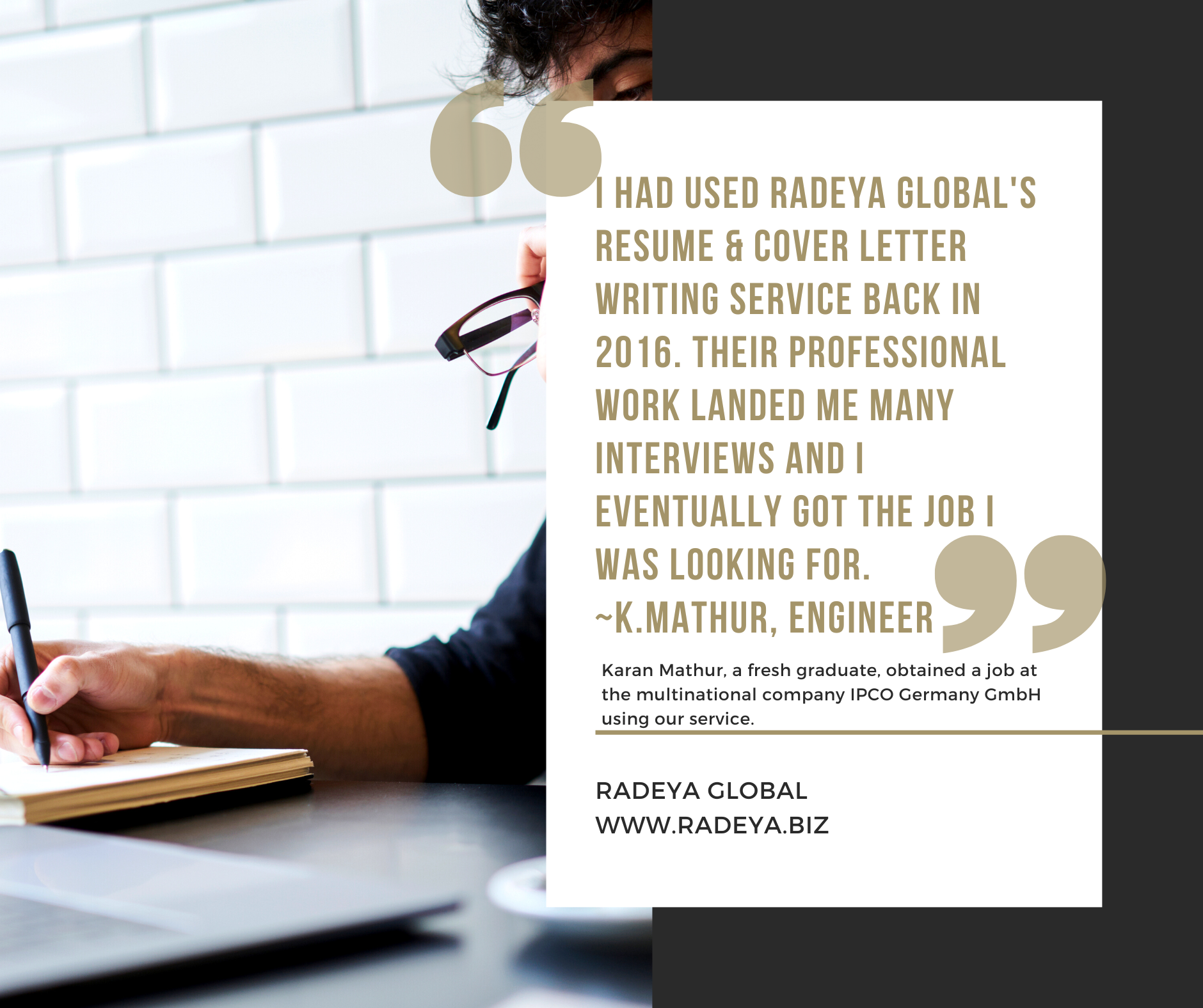 Radeya Global's professional work landed me many interviews and I eventually got the job I was looking for.
Karan was a fresh graduate with no experience. As he was meeting with employers at college job fairs, he requested advice on what to say in the interview to increase his chances of getting a job. Using the advice and interview preparation resources we provided, along with a new CV that highlited his academic and intership achievements, for meeting with potential employers gave him an edge over other job applicants. The result was a permanent job at multinational company IPCO Germany GmbH.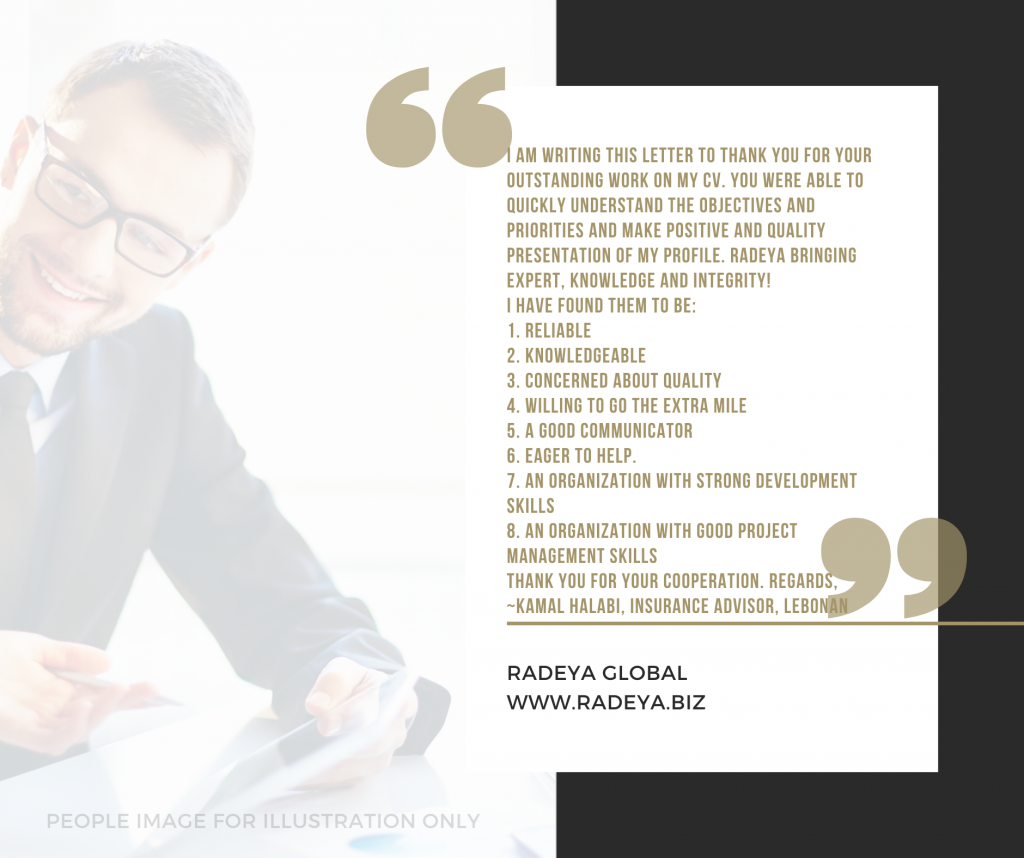 "I think this is the best CV ever written concerning my profile"
Kamal Halabi had a long, varied career history in the insurance industry, covering more than 20 years. The many different jobs obscured his consulting skills and potential. After an in-depth consultation with the client regarding his career history, we identified his specialized skills and optimized his career history to reflect his high demand skills and achievements. When the client saw his optimized career history and revised CV, he said, "I think this is the best CV ever written concerning my profile."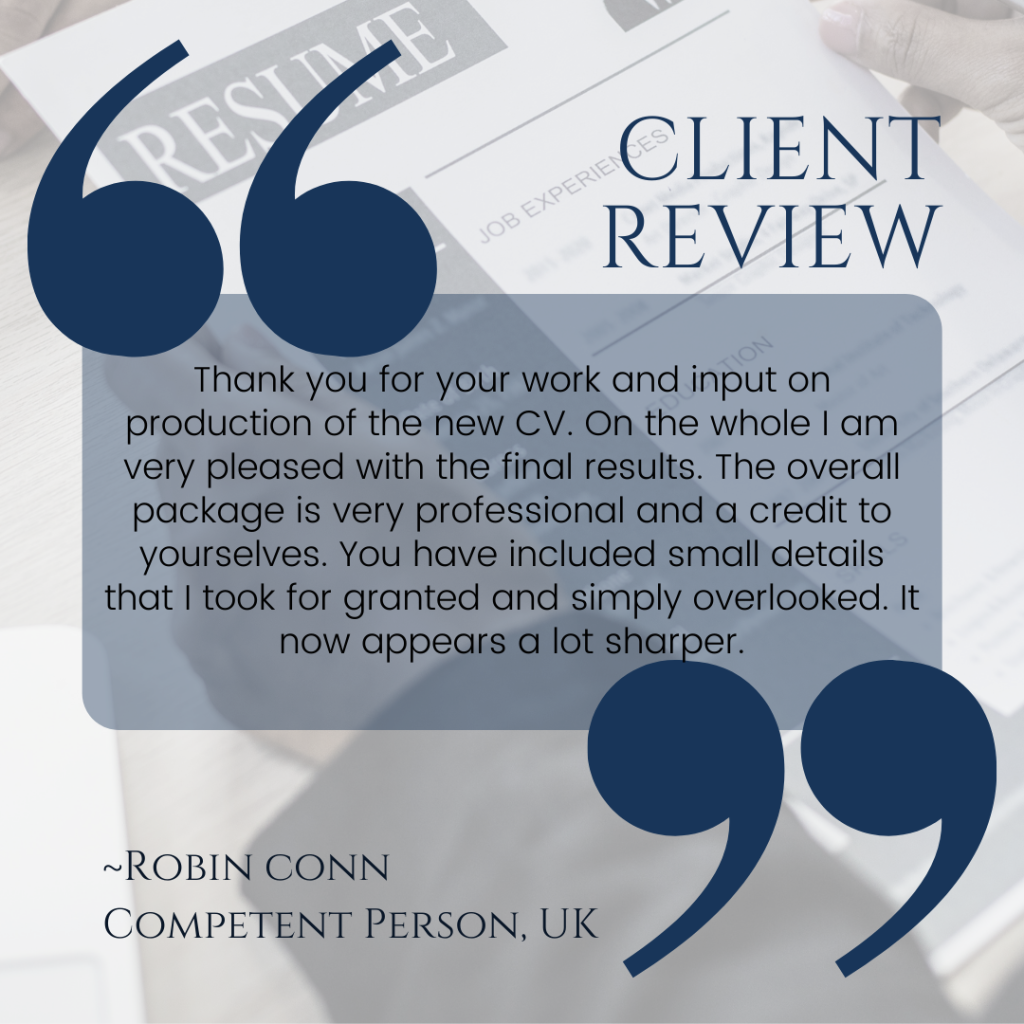 "You have included small details that I took for granted and simply overlooked. It now appears a lot sharper."
Robin Conn had a complex career history, working in the construction industry. To prepare his resume, our staff went through his long and complex career profile to identify core strengths, high demand skills and work experience in relation to his chosen career path, in order to reflect Robin's career achievements in his resume. We optimized the resume to highlight necessary skills, achievements, and experience. We also prepared a custom cover letter. Pleased with the final product, Robin Conn had this to say: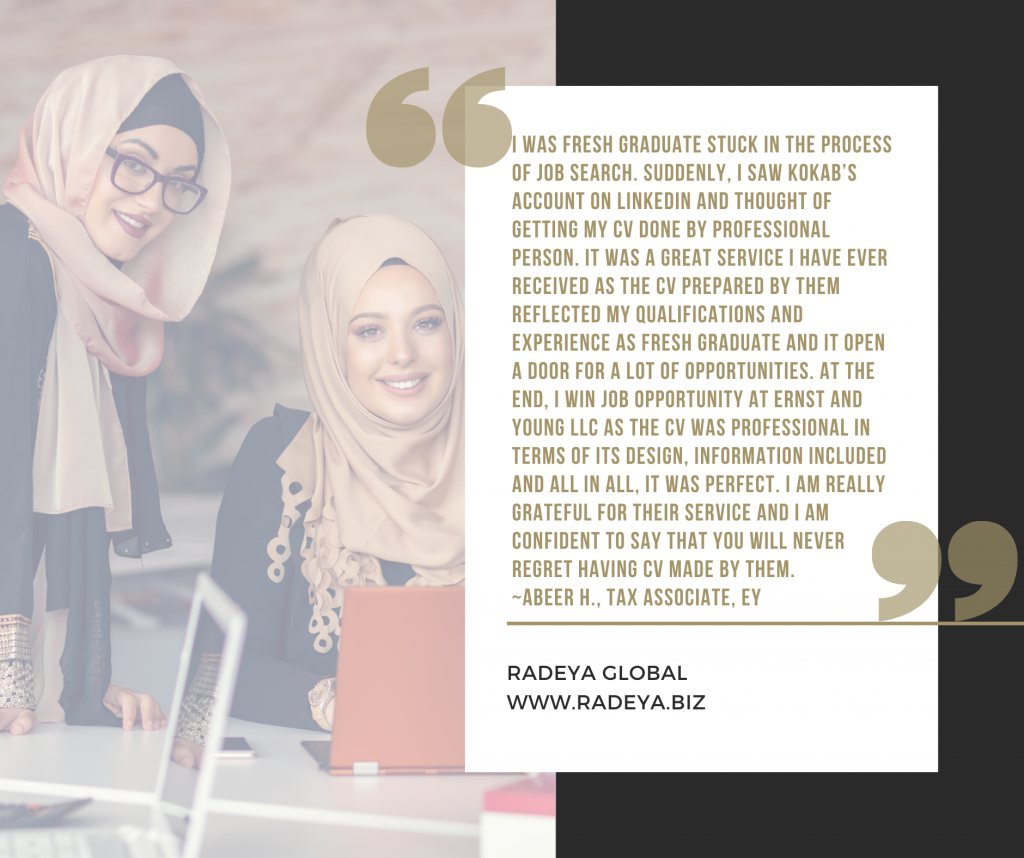 "The CV reflected my qualifications and experience as fresh graduate and opened the door for a lot of opportunities. At the end, I won job opportunity at Ernst and Young LLC."
Fresh graduate with zero work experience except for a brief internship, Abeer Al Hasani contacted us on LinkedIn to have her CV made. Tired of the job search process that wasn't giving any results, and a lackluster resume, she needed professional assistance with her career profile. We looked into her career history, achievements, and goals, and worked on her profile to include relevant details. Within a few months, Abeer got a permanent position at Ernst & Young, one of the Big Four Accounting Firms.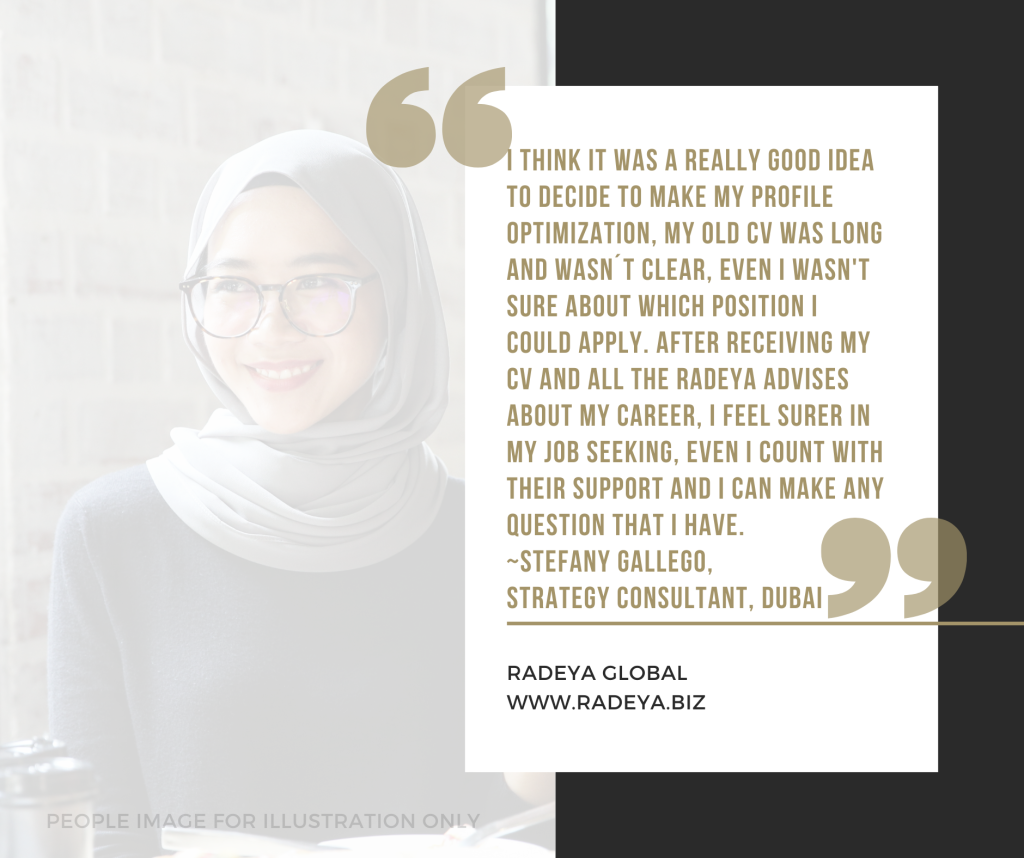 "I wasn't sure about which position I could apply. After receiving my new CV and all the Radeya Global advice about my career, I feel surer in my job seeking."
Stefany approached us for help with her career. She wanted to change location and apply for jobs in a new geographic region. We saw that her career was not in line with her skills and experience. She had greater potential. She was doing the work of a strategy consultant but was underemployed. We optimized her career profile to match it with her skills and expertise. Her new profile along with our career assessment and advice gave Stefany greater insight about her skills and potential which she could convey to prospective employers during her job search.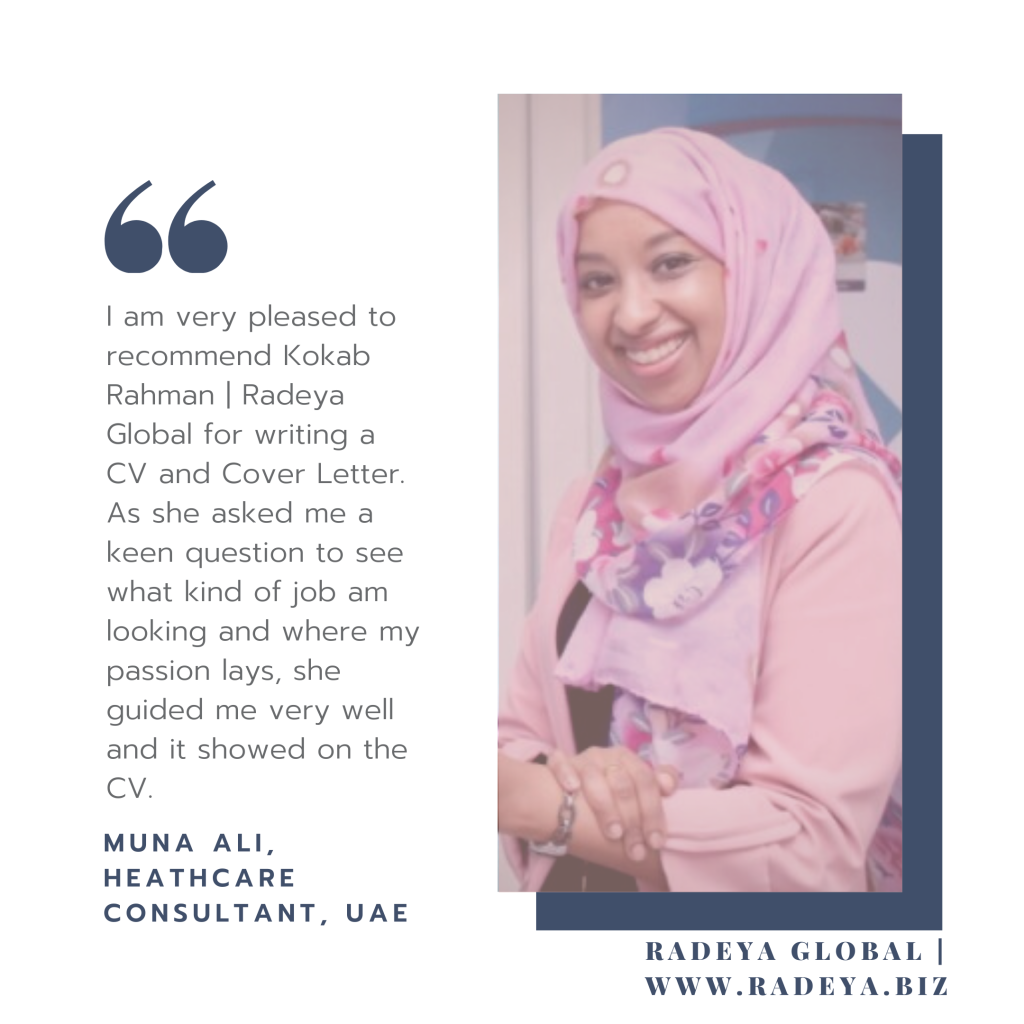 "Radeya Global asked me what jobs I was seeking and where my passion lay, they guided me very well and it showed on the CV."
Muna Ali was working as dental hygienist and also handling some office tasks. As her career progressed, Muna Ali decided to go from working as a dental hygienist to clinic receptionist and eventually to clinic manager role. Converting her dental hygienist CV to clinic receptionist required creativity. Our staff looked into her profile, identified relevant skills, experiences, and achievements, and optimized her career profile to help her get the job that she wanted. Within months, Muna Ali secured a clinic receptionist job with AED 9K salary in UAE in a very competitive market and then went on to advance to clinic manager and independent consultant positions. She took advantage of our career guidance, consultation, job search support, and resume writing several times to reach her goals and streamline her career path, helping her achieve a successful career.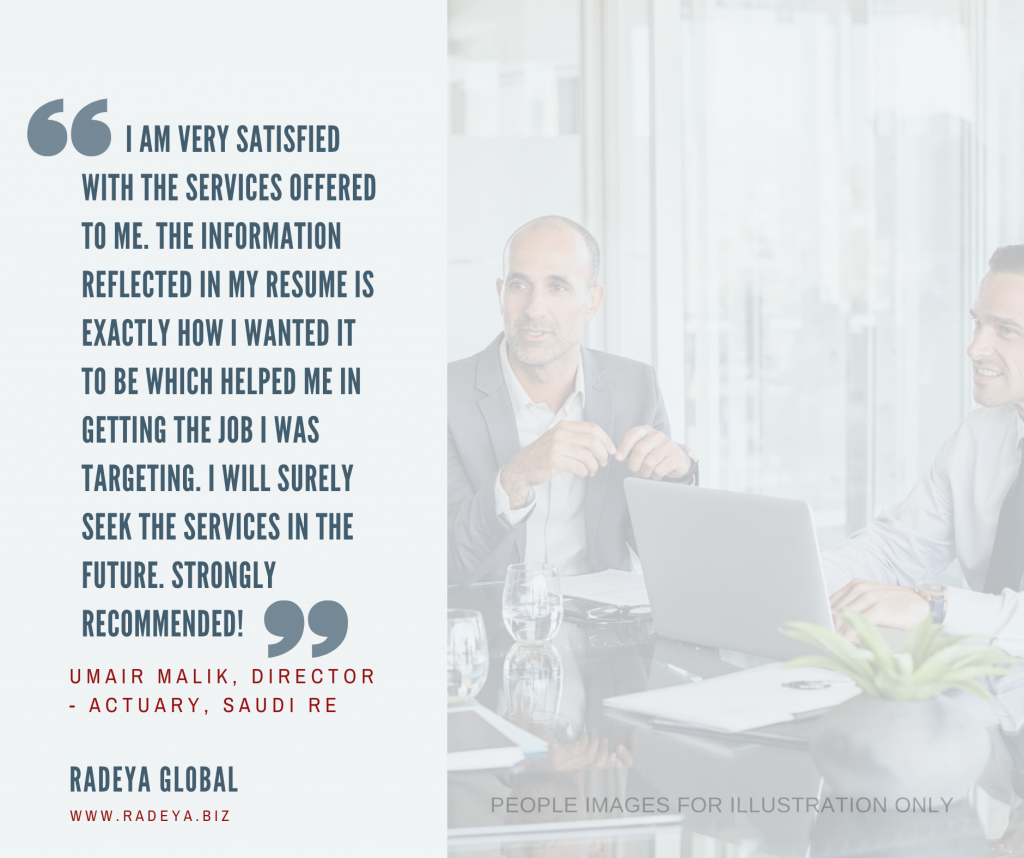 "The information on my resume is exactly how I wanted it to be, which helped me in getting the job I was targeting."
A CV should highlight a client's future potential. We ensured the Umair Malik's CV focused on his most important skills and capabilities in line with future career goals. We optimized his career profile to highlight high demand skills. The result was that he got a Senior Director job at a top multinational company in Saudi Arabia.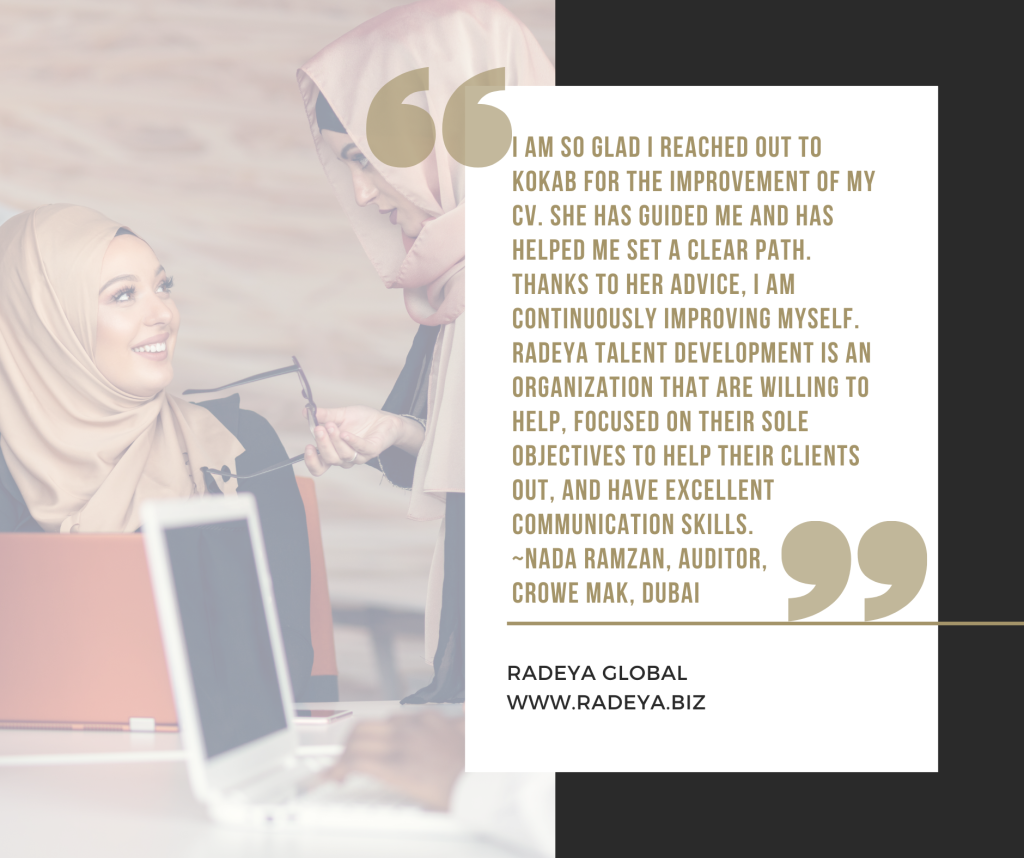 "Radeya Global Talent Development is an organization that is willing to help, focused on their sole objective to help their clients out and have excellent communication skills."
How did Nada go from being a junior / trainee accountant with a salary potential of AED 2000 for her experience level – as per her original resume – and few job prospects in a highly saturated market, to becoming an auditor with a salary potential of 10,000+ and high employment chances in top level accounting and financial consultancy organizations? When Nada contacted us, her apparent career profile was not impressive. But we saw it could be improved. We advised her to get some current experience and training. Some of the options we advised her on:
• taking an accounting software course,
• doing self initiated projects, and
• starting freelance accounting work.
We identified one overlooked aspect of her career, which was the work she was doing as a freelancer. The work entailed advanced financial analysis tasks and report writing skills. This was work she had experience in and enjoyed doing. Thus, after in-depth communication, we restructured her career profile and optimized her resume for her new advanced career line. We incorporated her skills and experience she had gotten from her freelance work as well as her certification training, focusing on the details that would help her make the most of her career. The result was that Nada not only had a CV that opened opportunities but she also got insight into her own skills and achievements, information useful when communicating with potential employers. Within a few months, Nada got a specialized job as auditor at the multinational firm Crowe Mak.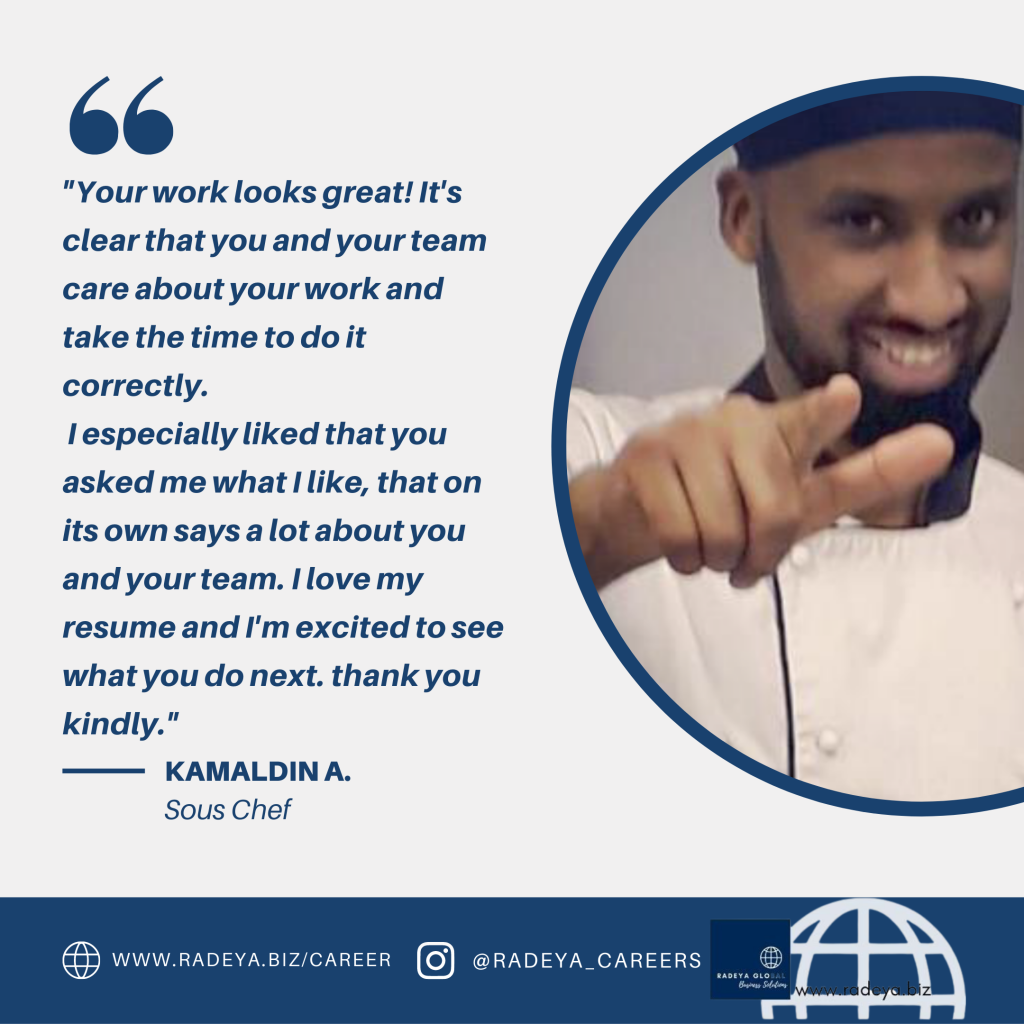 "Your work looks great! It's clear that you and your team care about your work and take the time to do it correctly...​Whoever wants their resume done amazingly, this is the place to be at. Thank you kindly."
Dutch chef Kamadin Ali lost his job during Covid pandemic when restaurants closed. He decided to relocate and hired us to revise and optimize his CV and translate it, as well as help him with job search. We saw that his existing CV was very basic, text only and it didn't bring attention to his creative career as a chef. We created a creative resume with a modern layout, wrote a cover letter that highlighted his career achievements and international hospitality experience, and applied for jobs in several restaurants in a few countries. Within a few weeks, he had his first positive response, a telephone interview and job offer. However, due to the lockdown, the recruitment was delayed. After a few months, Kamaldin obtained a job as chef in Dubai and he is enjoying his revived career.
Check out the testimonials on our Facebook page, Google page, and LinkedIn. Or leave your own.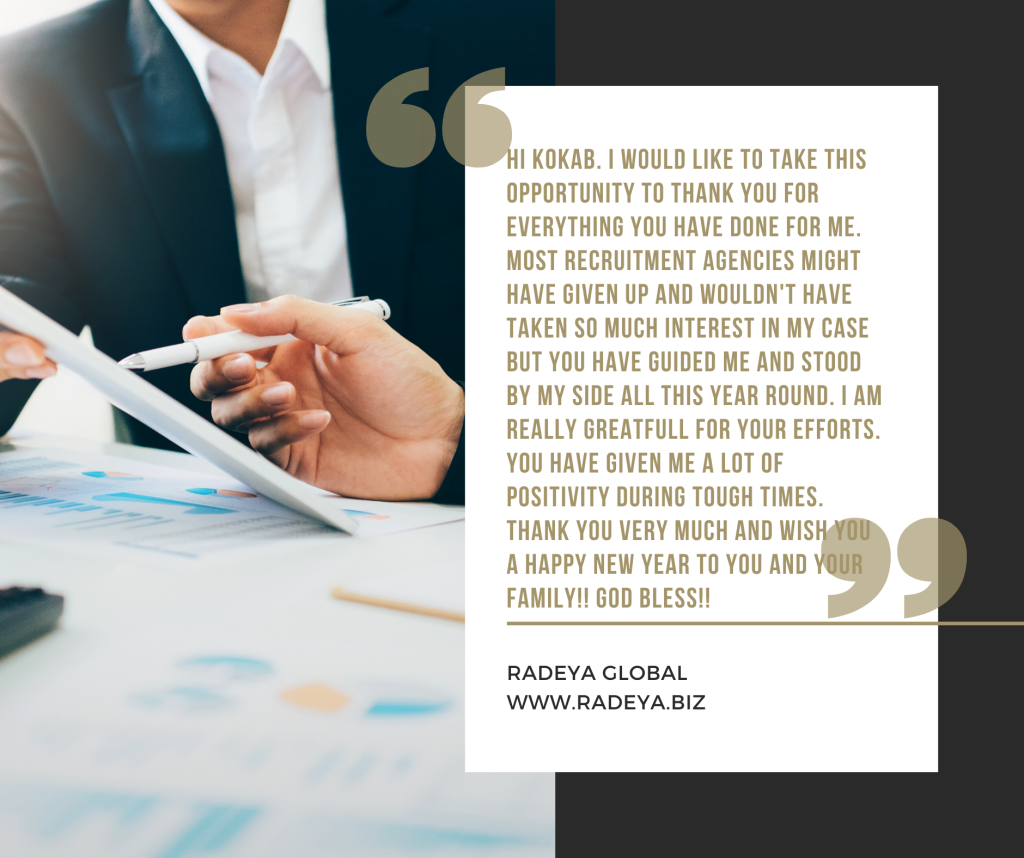 "I am really grateful for your efforts. You have guided me and given me a lot of positivity during tough times. Thank you very much and wish you a Happy New Year to you and your family!! God Bless!!"
The client need help to optimize his CV and find a job that was more challenging than his current job as well as offered him greater freedom. We prepared his CV showing his strengths and potential. In addition, we provided nonstop job search support. The job hunting helped him land several interviews. However, none of the jobs met his needs. We also gave him career advice so he could make the right decisions regarding his career future. The client was very happy with the services and nonstop support.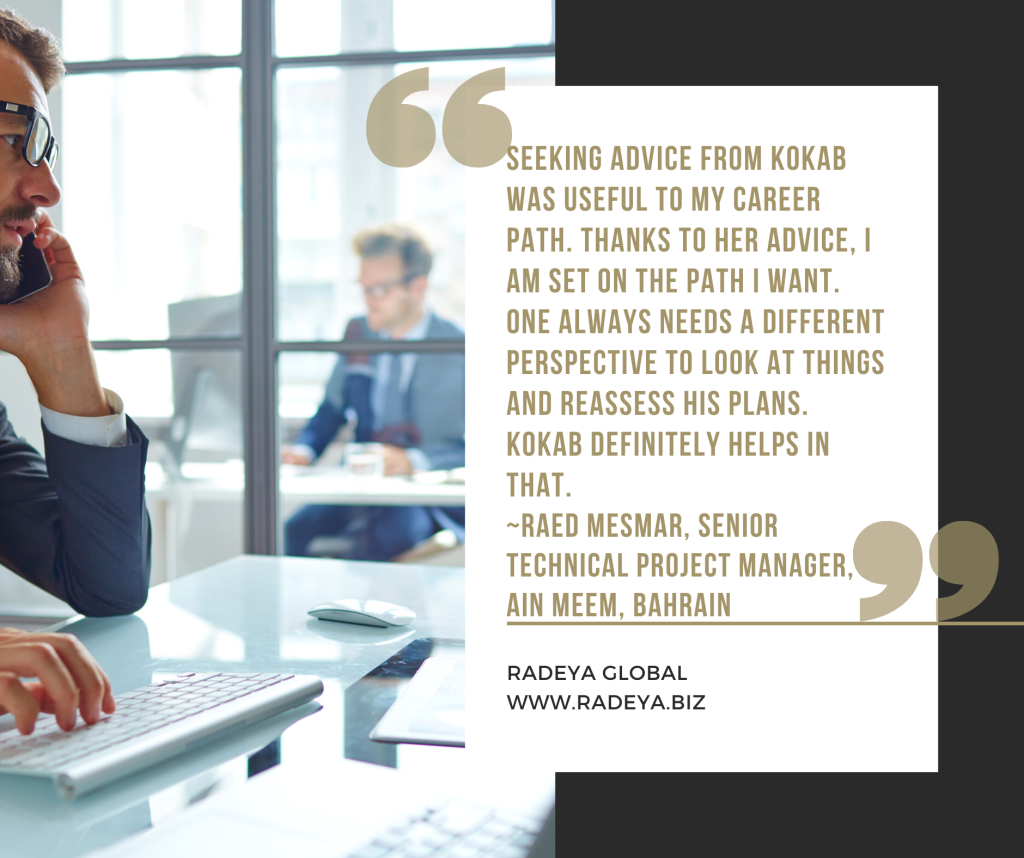 "One always needs a different perspective to look at things and reassess his plans. Kokab definitely helps in that."
Summary: Raed needed help determining his career path in IT as well as a CV that conveyed his strengths. Through our guidance, he achieved CISSP Certification, resulting in a high salaried job he loves.
Raed needed help identifying the right career path that was in line with his experience, education, interests, and future goals.
Our staff looked into the various options he had and identified a high demand, promising career path in the tech industry. We prepared his profile and advised the client regarding further training options that would help him achieve his goals. Raed was pleased with the service provided. He followed our guidance and set goals for obtaining certification. In a few years, he achieved CISSP Certification as we had advised and proceeded to get a senior manager job at Ain Meem in Bahrain.
"I don't have words to praise this page and the service recently they provide me my free CV. First ever page I have seen in my life to provide such services."
We have made a number of free CVs to customers who needed free service and are always open to provide the service free to those who need it. A.Z. Afridi was such a client. Minimum wage worker, he was unable to afford a professional CV writing service, and this was hindering his career progress. Afridi approached us via our Facebook page and inquired about our free CV and cover letter writing package. We looked over Afridi's skills and experiences and created an optimized CV, combined with a creative cover letter, conveying his strong points and high demand skills.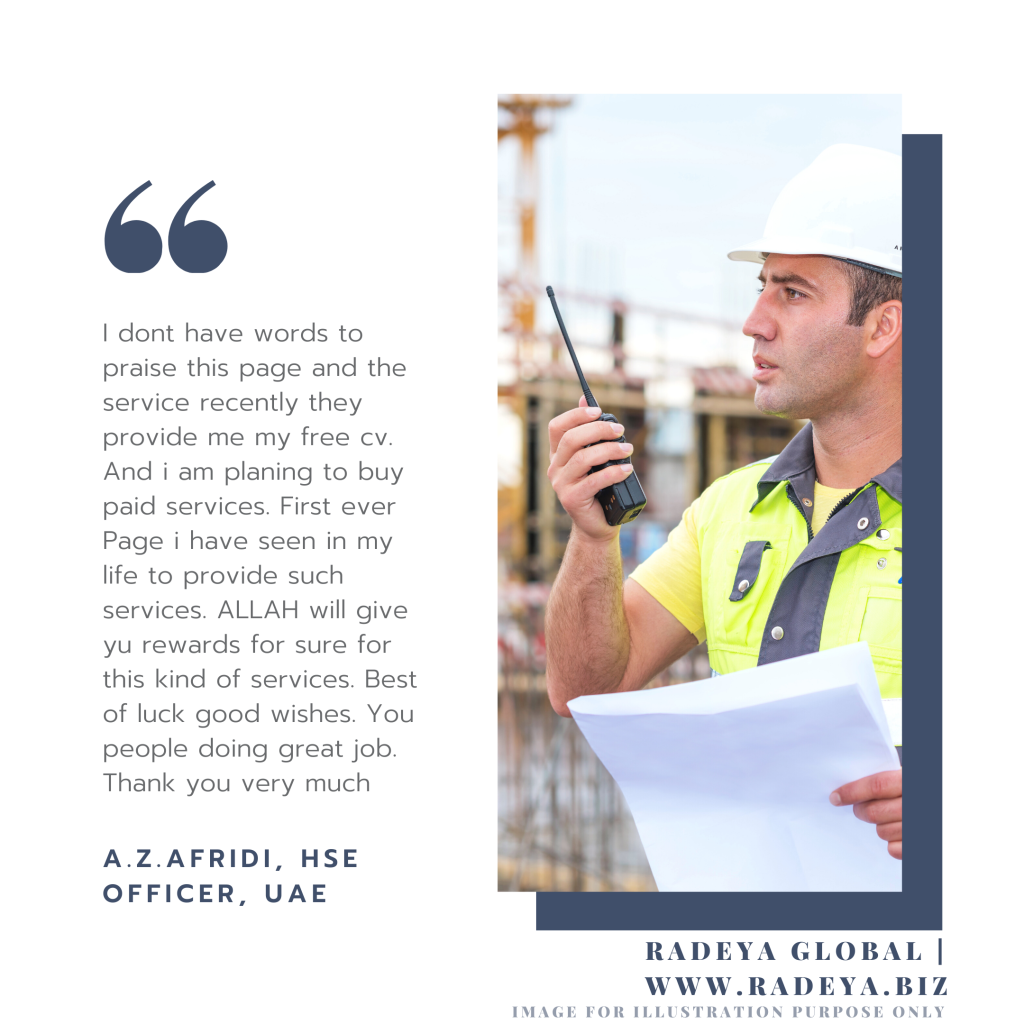 "The resume prepared is extremely precise and highlights my skills and strengths and this is exactly what recruiters need to see."
Dhram Sudha needed advice about the right career path to progress into as an experienced financial professional. We provided advice and guidance about different career options as well as freelance and self-employed consultancy work opportunities, in addition to helping the client land several interviews at top multinational companies.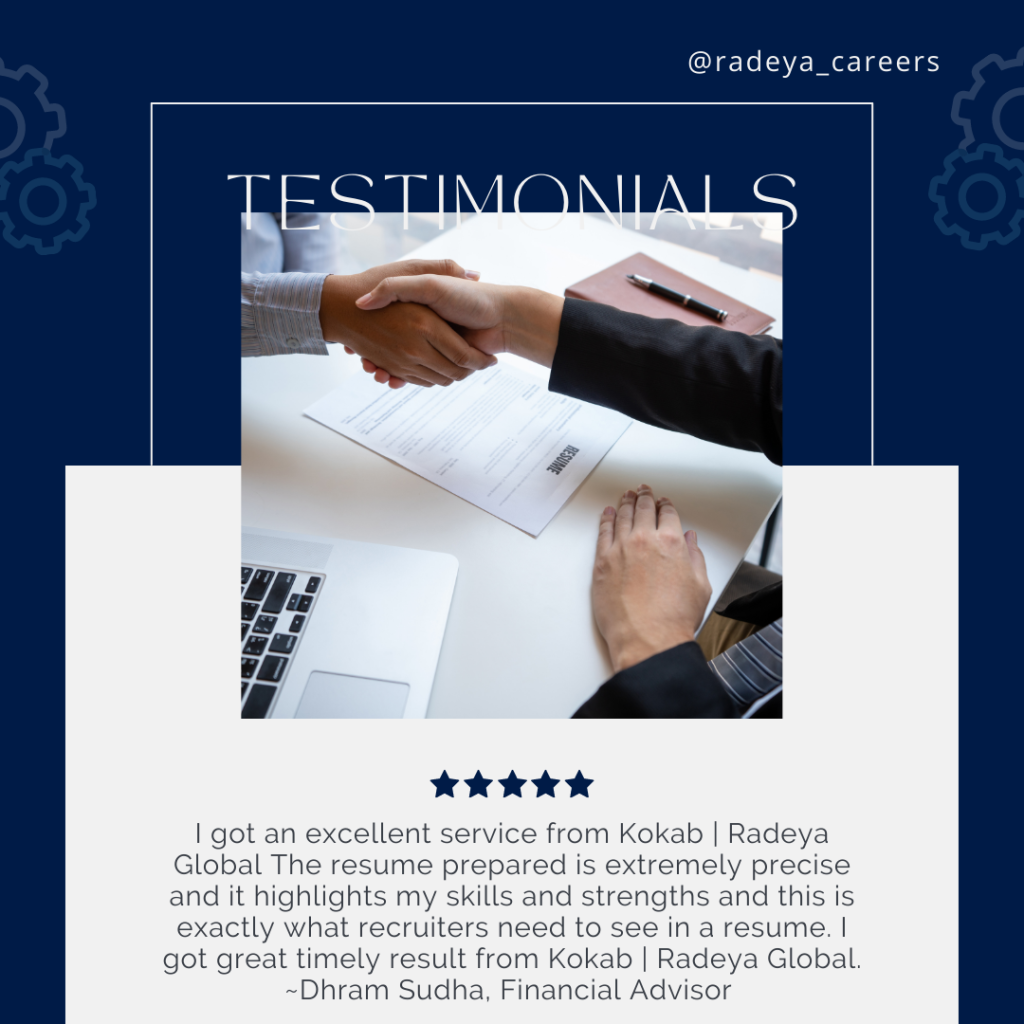 Fresh Graduate Career Change
What do you do when you are a fresh graduate, have no relevant work experience, and want to pursue a job other than your college major subject? This was the case with Anjum, UK graduate in psychology who wanted to pursue a career in retail marketing. Anjum had no relevant experience and was confused how to make the career change. She approached us for a revised CV that would help her make the career change. We looked in-depth into Anjum's career profile, identified areas of strength, and prepared a promising career profile that would help her progress into the new career line. We included relevant skills she had obtained working various freelance and volunteer positions and showed her impressive personality both on the CV and the cover letter. The optimized CV helped her get ahead in her career despite being a fresh graduate pursuing a different career line to her college major.
"Highly recommended if you need professional CV Writing. Great staff too."
The client needed CVs and job search support for several family members. Radeya Global created their new CVs highlighting strengths and skills relevant to the chosen career line. In addition, we helped arrange several interviews at top local organizations as well as offered job interview advice.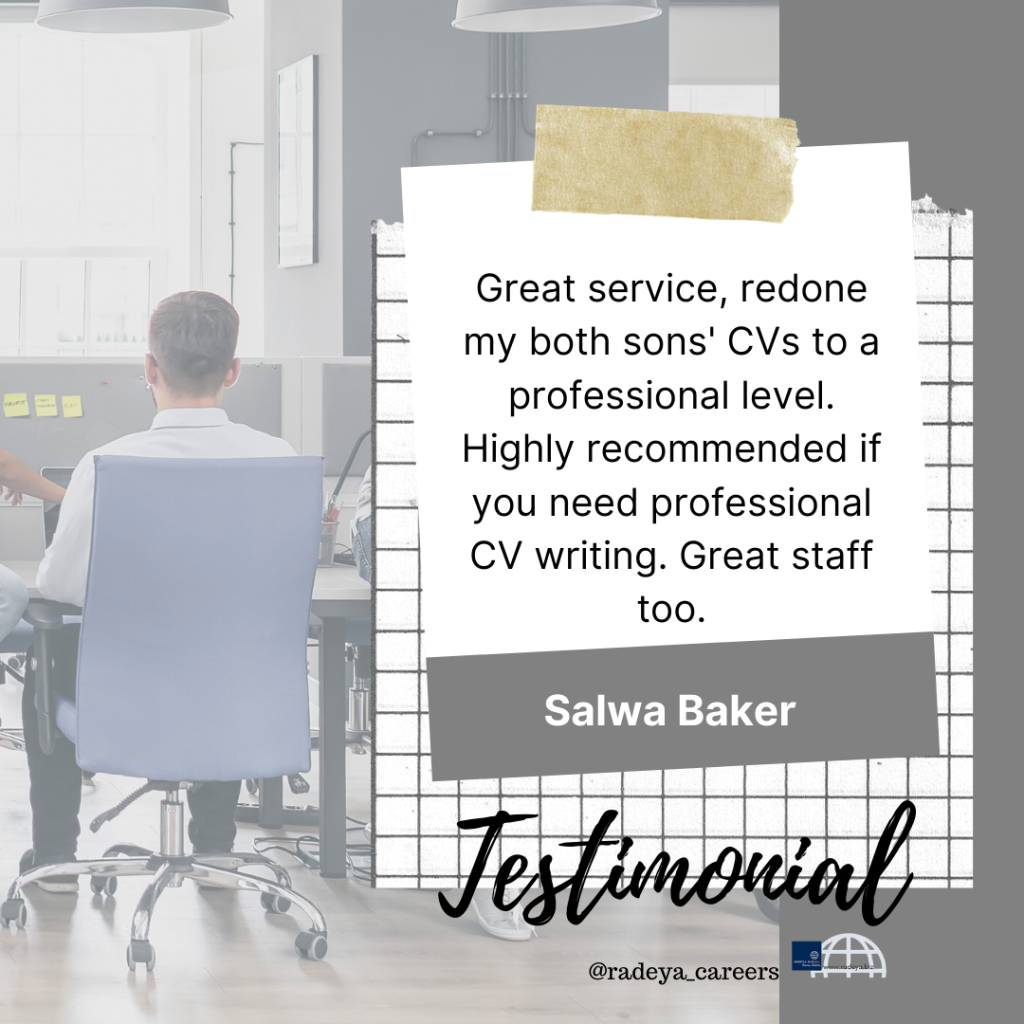 Free CV Assessment and Free CV Rewrite (to eligible individuals) is available. Email info@radeya.biz to learn more.
"Professional staff and professional service. They deliver what they promise."
Huzaifa Boxwala needed a CV that helped him land a job in line with his skills and professional experience. We optimizing his CV to reflect his career potential and included important information about his work experience. We also helped him with job search and provided career advice.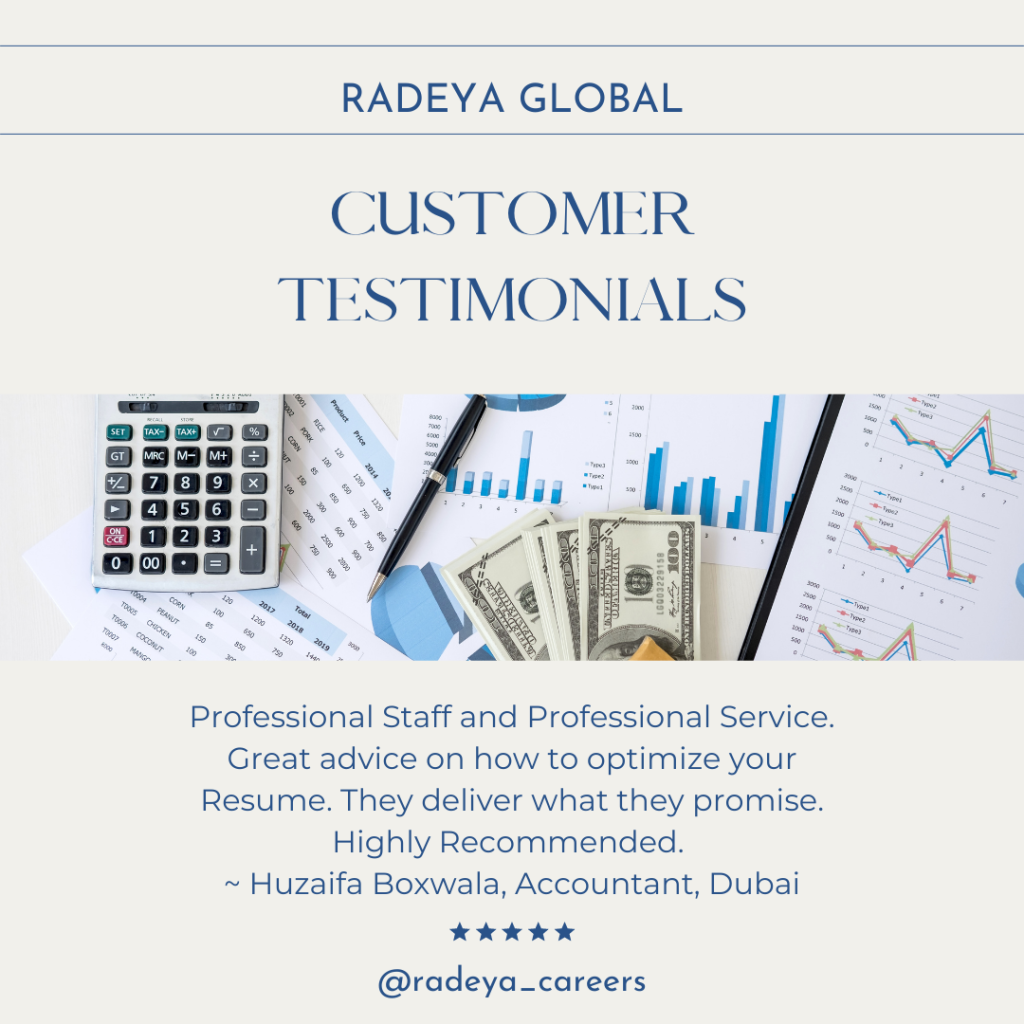 "Great CV design, very professional, love it, Thanks!"
Dawood retired early from his corporate job of 15+ years. However, after a few years, decided the retiree life wasn't for him. Being unable to get into the workforce following several attempts, he contacted us. We looked into his career and revitalized his resume, adding information about his career passions and recent self work related to advancement in the tech industry, including cybersecurity, blockchain and cryptocurrency. Dawood loved the fresh take on his resume and that his new resume included overlooked information about his career, highlighting skill and potential. To connect with tech expert Dawood* for a consultant or executive level job send us a DM or email customer720172@radeya.biz