Radeya Global Resume Optimization is not just any resume / CV writing service.
Radeya Global Career Rebranding & Resume Optimization not only give you a document to use for applying to jobs but also give you invaluable insight into your skills and potential.
Radeya Global Career Rebranding and Resume Optimization helps you articulate information about your career in a clear and compelling way, so that you can convey your skills and potential to employers and get the job you deserve.
Radeya Global is one of top consulting companies and top HR services with 100% customer satisfaction and high client success rate. Our clients repeatedly get high salaried permanent jobs at top multinational companies. Check out our customer testimonials at https://www.Radeya.biz/testimonials .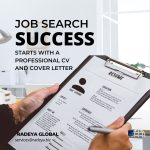 Our career experts work with you to identify your unique skills and career potential. By having an insight into your high demand skills, you not only know what jobs are right for you but also become aware of your worth and are better able to articulate your skills to recruiters. The result is better job opportunities and a higher success rate. It is no wonder our clients repeatedly obtain high paying jobs at reputed organizations, including multinational companies like EY, JP Morgan, NHS, Crowe Mak, Marriott, and Saudi Re.
Don't settle for a job you are unhappy with. Click here for Radeya Global Career Rebranding and Resume Optimization or email info@radeya.biz .
Written by Kokab Rahman
Copyright Radeya Global
Individual articles from Radeya Global Blog may be reproduced as long as the content is unchanged and a link to the original is provided. Radeya Global Blog may not be reproduced in its entirety.