Whether you are a self-employed freelancer or a startup founder, a PR strategy is vital to your personal branding.

PR refers to conveying information in order to affect public perception about your business or personal brand. It includes media mentions (press releases, radio and TV appearances, and features and interviews in credible publications) and is "earned" rather than purchased.

Customers consider earned media mentions more credible than paid ads. For this reason, a PR strategy can be more effective in increasing sales and market reach.

Combined with paid marketing and organic social media strategy, a PR strategy can help you get the market growth you are looking for.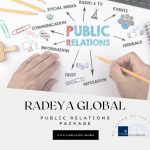 You can rely on Radeya Global, one of top consulting companies in Turkiye, for managing your social media and PR with our content creation package:
✨Instagram posts
✨Blog posts
✨Articles
✨PR / Media Mentions

DM us or Email solutions@radeya.biz with details about your business, your website and social media links, and your quarterly budget to get started.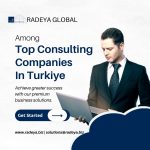 Radeya Global is among top consulting companies in Turkiye. Achieve greater success with our premium business solutions. Email us today.