Recently there has been news of mental health issues being on the rise due to changes in human lifestyles. Reduced socialization and increasing societal challenges have made people more susceptible to mental health problems. More people today live lonesome lives than ever before. The family unit is smaller, families live farther away from each other, and there is little to no interaction between neighbors. In addition, global issues like inflation, political crises, and rise of the cost of living have further put pressure on people.
What's more, owing to the pandemic and various social changes, people don't even have the opportunity for face to face human interaction at work places and shopping centers since many people work remotely and shop online. The comfort and ease of online shopping has made a trip to the mall or supermarket an avoided inconvenience.
Entrepreneurs and people working from home are particularly at risk of suffering from mental health issues due to their unique lifestyles. Entrepreneurs are twice as likely to be affected by mental health issues. The struggles entrepreneurs face and their lifestyles, misconceptions surrounding entrepreneurship and success, and the actual journey filled with challenges and setbacks compared to the unrealistic expectations commonly held, all affect mental health.
Mental health problems can have a range of effects on an individual, their family, and the people around them, from making one's life difficult and unpleasant to life threatening risks. Analyzing and taking care of one's mental health and ensuring to address any issues that arise promptly and professionally can make the issue more manageable and reduce the risks.
For this very reason, mental health awareness is vital for living healthy and wholesome lives and ensuring human beings take the steps to mitigate the effects of societal changes. Whether it is regularly assessing one's mental wellbeing or deliberately taking steps to reduce solitude and increase social interaction and outdoor trips, humans need to be proactive about taking care of their mental wellbeing.
Self-Help for Entrepreneurs & People Working from Home  is a book every entrepreneur and work-from-home professional needs in their library.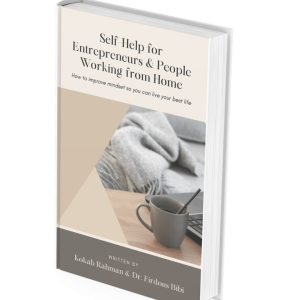 Self-Help for Entrepreneurs & People Working from Home, written by Radeya Global Founder, business advisor, and mentor, Kokab Rahman, addresses the challenges common on the entrepreneurial journey and how they affect mental health. It covers topics like financial challenges, relationship issues, isolation and lack of support, self-doubt and imposter syndrome, stress from failure, and stress from success, to name a few, and offers tips to handle them.
Self-Help for Entrepreneurs & People Working from Home is available from Amazon in paperback, hardcover and ebook. Ebook is available for just $0.99. 
Follow Self-Help for Entrepreneurs & People Working from Home author Kokab Rahman on Instagram: @classicdisplay    
LinkedIn: https://www.LinkedIn.com/in/kokabrahman

Written by Kokab Rahman  
Copyright Radeya Global
Individual articles from Radeya Global Blog may be reproduced as long as the content is unchanged and a link to the original is provided. Radeya Global Blog may not be reproduced in its entirety.